Red White and Que Smokehouse (https://www.redwhiteandquesmokeshack.com/), a Southern BBQ chain focusing on slow-smoked meats and classic homestyle sides, underwent a rapid expansion in 2017 and tapped G1 Graphics to oversee the production of indoor, outdoor and food truck signage for various new stores throughout New Jersey and Pennsylvania. Despite tight turnaround times, varying needs by store and wide geographic area (ranging from Northern New Jersey to Southern New Jersey, and into Easton, Pennsylvania, G1 Graphics was proved to be a fluid and reliable partner for Red White and Que. 
Exteriors
Channel Lettering, Lighted Channel Lettering, Lightboxes, Wayfinding Signage, and Storefront Exteriors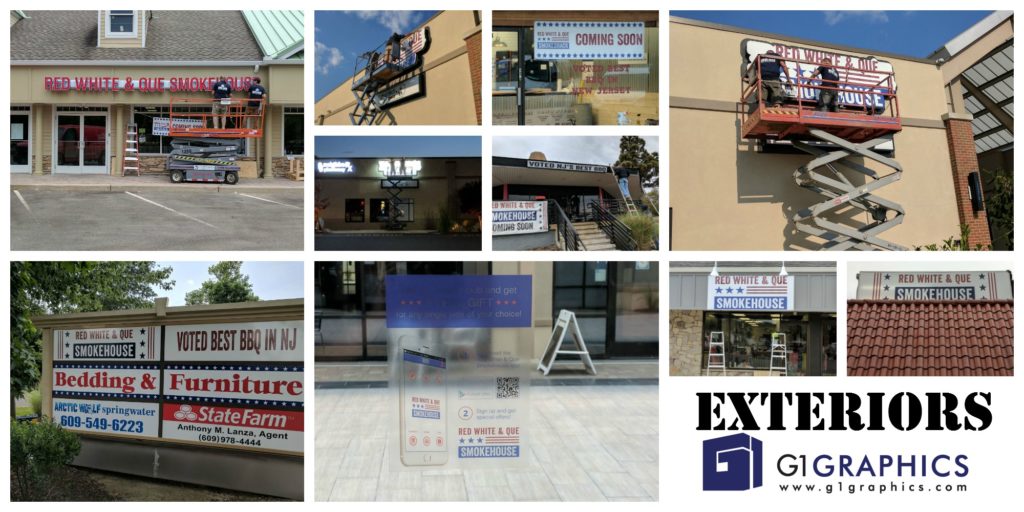 Despite varying local ordinances throughout New Jersey municipalities and Pennsylvania, G1 Graphics was able to produce signage that not only complied with local regulations but matched the branding specifications put forth by the restaurant. Prior to opening, G1 Graphics provided temporary signage to advertise the restaurant opening. These construction banners are an economical choice to help announce new location openings and can be produced in any size necessary.
In addition to the pre-opening banners, G1 Graphics created a full suite of permanent exterior signage for each location, from lighted channel lettering to lightbox signs, along with the necessary wayfinding signs.