Red White and Que Smokehouse (https://www.redwhiteandquesmokeshack.com/), a Southern BBQ chain focusing on slow-smoked meats and classic homestyle sides, underwent a rapid expansion in 2017 and tapped G1 Graphics to oversee the production of indoor, outdoor and food truck signage for various new stores throughout New Jersey and Pennsylvania. Despite tight turnaround times, varying needs by store and wide geographic area (ranging from Northern New Jersey to Southern New Jersey, and into Easton, Pennsylvania, G1 Graphics was proved to be a fluid and reliable partner for Red White and Que.
Interiors, Exteriors and Food Truck
Branding, Menu Boards, Contour-Cut Lettering, Exterior Sign and Food Truck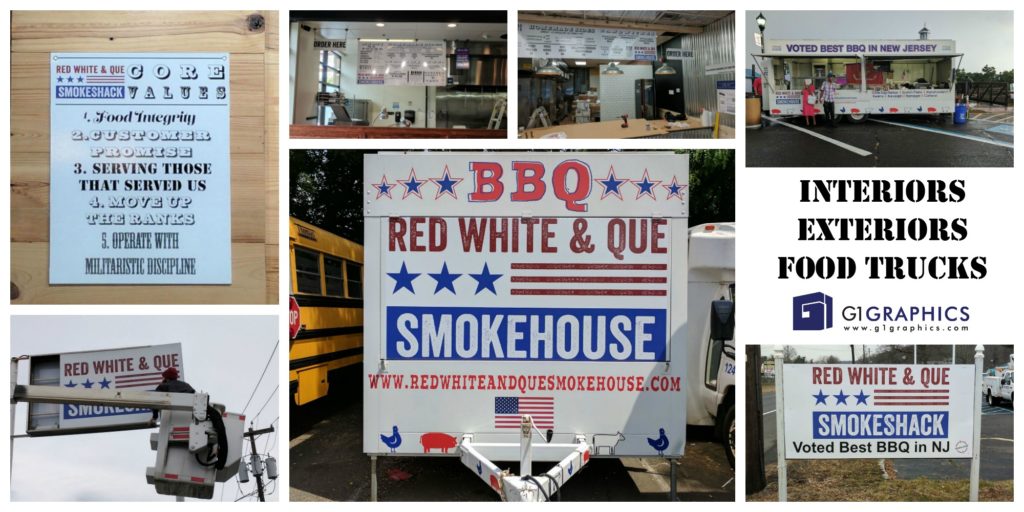 In addition to the different types of exterior signage required by each location, G1 Graphics completed a full set of signage required for the interior of each restaurant, from menu boards to branding. Red White and Que also operates a food truck, which was meticulously designed and created by our experienced crew.